Do you think of spending a day or a weekend to disconnect or just relaxing a little with your dearest?

Villa Goyita Hostel is the location you are looking for!

Organize your stay or your escape from the city and contact us.
We have everything you need for enjoying at the top, feeling like home.
All the villa services will be at your unique disposal: swimming pool, bbq, free wi-fi, chill-out, ping-pong, board games, fully equipped kitchen, living room with Netflix for the last film before going to sleep, terrace with an amazing view on the barranco, small open-air gym, 3 bathrooms with shower, ... and we can continue till tomorrow.
Enjoying time with family and friends: the best ever!
Something not to forget: the hostel staff will be totally at your disposition, to help you cleaning and keeping the house ordered and the swimming pool at its best.

Furthermore, you don't have to worry about having that last drink: booking the whole house, you can pass the night here in our 4 rooms, customed in style and capacity.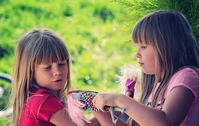 Note: the maximum capacity is up to 20 persons during the day, up to 14 persons for the night staying.
Villa Goyita Hostel is the place affordable for everyone: book it today for your family or friends gathering from 400€ per day. For more information or to set a budget, click here.